SKELETAL CLOCKS aka Silhouette Clocks aka Facade Clocks
Skeletal Clocks Primer And Other Descriptions
First, a primer on our nomenclature…  We use the word "Skeletal" to describe a clock with no enclosed case; you see only the hands and hour markers –  it's 'bare bones'!  The hands and markers are mounted directly to a building fascia or wall; which is why this type of clock is sometimes referred to as a façade clock.   An option is a non-illuminated background dial.  Another option is illuminated hands and indexes, with or without the background dial. If you are looking for an illuminated face, please see our Tower/Case clocks.
Another identifier of a skeleton clock is the clock hands and numbers/indexes are always exposed; there is no cover or crystal.
The movement for a skeletal clock can be mounted on the inside of the wall; we will need to know the wall thickness because the clock movement shaft will be made to fit. If there is no access from the inside, the movement can be recessed into an opening on the fascia. mounted to a center rosette plate and recessed into the wall.   In this case, an escutcheon plate, aka rosette, will cover the movement/opening and is usually made to match the hands and markers.
Skeletal Clock Indexes or Numbers?
LUMICHRON can make any style number or index, to match a specific font, or completely custom.  The number scheme can be traditional Roman or Arabic or anything custom.  If indexes, usually 12, but sometimes as few as 4 are specified, just not 8 (something to think about).  Also, the minute marks are really never done as installing 60 small objects on a wall is difficult and painstaking.
Skeletal clock mounting requirements
As you see only the hands and numbers/indexes, the clock movement (motor/works) is typically located behind the wall and the hand drive-shaft goes through the wall to the façade.  So… there needs to be access/protection to the backside of the wall.  If there is no access from behind, then the movement must be mounted to a center rosette plate and recessed into the wall.
–  Skeletal clocks on a parapet wall:  Possible, but some protection needs to be considered for the movement on the back side
–  Skeletal clocks on Elevator shafts:  Possible, but the movement must be 'through-front' style, mounted to a rosette, so nothing is in the shaft.
Skeletal Clock Types
1)  Hands and/or numbers/indexes only. A note about hands:  As the clock hands are exposed, they are made to withstand extreme weather conditions and are fastened to the shafts with set screws. Once fastened, time adjustments are possible by activating the movement motors.
2)  Hands, numbers/indexes on a non-illuminated background dial.  If you want a fully illuminated background dial, see Tower/Case clocks.
3)  Through-wall – the movement/motor is on the backside of the wall
4)  Front Mount – the movement/motor is mounted to a rosette plate and the assembly installed through the front – requires a cavity in the wall to accommodate everything.
Skeletal Clock Time Control 
All tower, building, architectural, outdoor clocks manufactured by LUMICHRON are completely automatic for hands-free operation.  The time is managed by a master clock controller, usually located in the electrical room – secure and accessible.  This device keeps track of the time with a quartz crystal with a lithium battery back-up, often synchronized with a GPS antenna for exact synchronization with NIST (Atomic Time, link).  When the power is interrupted or DST changes the master clock will reset the display clock(s) automatically.
Skeletal Clock Illumination
Skeletal clock hands and indexes can be illuminated!  Typical illumination is "halo-lit" which means each element is set off the wall 1.5" and the LED illumination shines from the back through translucent sign-grade unbreakable white polycarbonate – reflecting against the wall.
Also possible is "face-lit" which means the front of the elements illuminate – the hand or marker contains LED's the glow through the translucent sign-grade polycarbonate.
Illuminated skeletal clocks start at about 48″ diameter (minimum size to accomodate wiring and LED's)
Lastly, it is possible to combine halo-lighting with a background dial for a very nice effect.
Skeletal Clock Size
Skeletal clock measurement is the outside diameter; top of 12 to bottom of 6, number or index.  To decide the size, look at it in context.  An old rule of thumb was a foot in diameter for every 10 feet of building height, but that is really only for legibility of the dial. For example, a 24" diameter clock on the 2nd story of a building looks pretty small.  It's better to think of the clock as an integral part of the architecture, and size it accordingly.  Viewing distance is also a consideration and we have a reference sheet for distance/legibility dial style.
Benefits of a Skeletal Tower Clock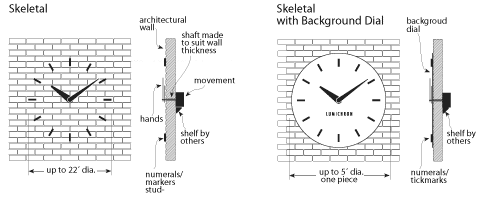 –  Sometimes the look of just numbers and indexes is perfect for the situation
–  The numbers/indexes can be of unlimited design; so get creative!
–  If it's non-illuminated, there are fewer components
Skeletal Clock Details and Specifications
Generally, any large clock installed on a dedicated façade for such is a "Tower Clock". Sometimes referred to as an Architectural Clock since it defines or becomes an integral feature of the architecture, or a Building Clock, since it's part of the exterior of a building, or an Outdoor Clock since it's usually installed outside on the exterior of a structure.
Outdoor Tower Building Architectural Façade clock specifications are listed in the CSI MasterFormat category Manufactured Exterior Specialties, 10 74 13.  Written specifications for any outdoor building clock can be provided as well as CAD drawings, simply drop us an E [link] and we'll respond promptly.  Click Here to see basic PDF drawings.
How To Order a Skeletal Tower Clock
Simply send us an e-mail to request a quote.  All projects are different so let us know:
–  Size of clock
–  Number of clocks
–  Type of skeletal clock:
– hand and indexes/numbers only
– with or without a background dial
– halo-lighting
–  What's behind the wall??
Here's our Catalog.
A Few Other Considerations for a LUMICHRON Skeletal Tower Clock
All LUMICHRON exterior skeletal tower clocks are custom manufactured to meet site requirements.  We have standard configurations to start with, but our forte is providing a solution to the challenges presented in a timely, cost-effective, professional manner.
We take every outdoor clock project personally and in order to best serve our customers we have no outside sales or representatives – you deal directly with the manufacturer.   Once a project has been awarded you will receive detailed shop drawings and submittals for approval prior to construction.  Normal delivery time for a typical building clock is about 5 – 8 weeks, depending on current backorders at the time.  If you need it sooner, just let us know and we'll see what's possible!
Skeletal Clock Service
A skeletal clock shall always be constructed and installed with proper service access, either through the front or completely from the back.   Keep this in mind when specifying or designing a building clock.  If the back is non-accessible, then it needs to be installed through-front.
A LUMICHRON tower clock shall be serviceable by qualified personnel.  This includes electrical contractors and electric sign companies.  Complete records are maintained for every clock made so factory assistance is readily available.  Complete Operation and Maintenance manuals are available upon request.